COMPLETE TRANSPARENCY
Prime Self has a strict 'no proprietary blend' policy. This means total label transparency. Showing you exactly what and how much you're getting from our products. 
SMART & EFFECTIVE
Armed with carefully selected and science backed ingredients, we wanted to make sure our products are at the forefront of health & wellness.
Customer Reviews
04/15/2021
Jeanne-Marie B.

South Africa
Your adrenals will thank you
Impressed by the combination put together with this supplement. Your adrenal axis will correct it self after a few weeks. Suddenly you energy spikes, you handle stress better, your weight starts to shift (at last!), your immune system recovers..happy adrenals...happy me!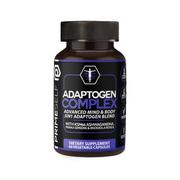 03/04/2021
Michelle B.

South Africa
Adaptogen
I suffer from Fibromialgia do I drink a lot of supplements. I cannot say that this is making a difference but it is worth the try